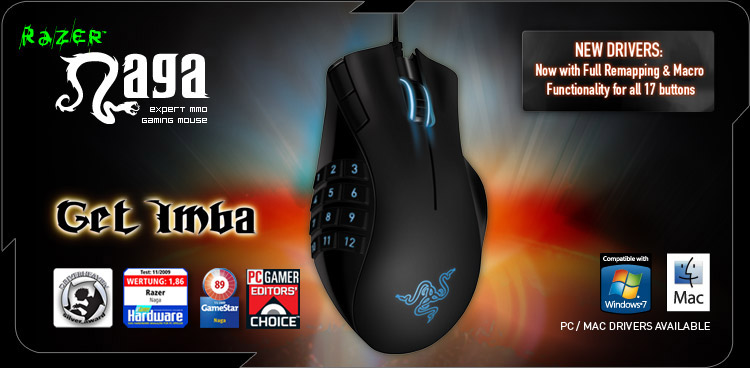 Razer have announced that they will be releasing a left-handed Naga mouse for those gamers who happen to be left-handed and unable to use the current Naga mouse thanks to its right-handed design. The planned release follows a campaign the company had on their Facebook page, stating that if a certain post got over 10,000 likes by April 21st, they would be releasing the mouse. A couple of days later, the limit had been reached and since then, the team have announced that they will be releasing the left-handed version of the mouse.
"That Facebook post generated more buzz than we could've ever imagined, which proves that there have been a number of gamers that have had their needs ignored for some time," said Tan. "We pride ourselves on being gamers ourselves, and we all know that there is no substitute for gaming with your dominant hand."
The mouse is to feature the following specifications –
17 MMO-optimised buttons
Program up to thousands of different in-game commands.

Maximum Comfort for Long Gaming Sessions
Game for days with the Razer Naga's ergonomic design, optimised for easy access to every button.

Custom Interface AddOns for MMO Games
Organise your skills and eliminate visual clutter with the Razer Naga's in-game custom interface AddOns (available for World of WarcraftTM and Warhammer Online: Age of ReckoningTM, and more).

Product Features:

5600dpi Razer Precision 3.5G Laser Sensor
1000Hz Ultrapolling™ / 1ms response time
200 inches per second max tracking speed
Zero-acoustic Ultraslick™ mouse feet
17 MMO-optimised buttons (including 12 button thumb grid)
Optional MMO-specific software AddOns
Unlimited character profiles with AddOns
Approximate Size : 116mm (Length) x 70mm (Width) x 46mm (Height)
Approximate Weight: 134g
Does this mean that Razer will also be releasing a Naga Hex for lefties in the future? Hopefully. But for now, The left-handed Naga is a great deal for gamers whose hands are dominated by the left.