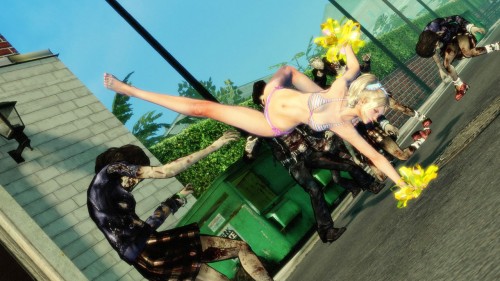 Lollipop Chainsaw is being scored by Akira Yamaoka (of Silent Hill 2 fame) and Jimmy Urine (of Mindless Self Indulgence fame). Today we get a ton information on the game's official soundtrack, which on top of the original score by Akira Yamaoka and Jimmy Urine, will contain several licensed songs.
The full tracklist for the licensed music is as follows:
Lollipop – The Chordettes
Pac Man Fever – Buckner & Garcia
Rock 'N' Roll (Will Take You To The Mountain) – Skrillex
The Way of the Fist – Five Finger Death Punch
Stop Reading, Start Doing Pushups – Destroy Rebuild Until God Comes
Riot Rhythm – Sleigh Bells
Turtle Crazy – Toy Dolls
1,000 Cigarettes – MSTRKRFT
Heroes Of Our Time – Dragonforce
Nemesis – Arch Enemy
Needled 24/7 – Children of Bodom
Mickey – Toni Basil
You Spin Me Round (Like A Record) – Dead or Alive
Empire State Human – The Human League
Cherry Bomb – Joan Jett and the Blackhearts
Speed – Atari Teenage Riot
You can also view some behind the scenes footage of the game's soundtrack process in the video below, where Akira and Jimmy share some of their insight.