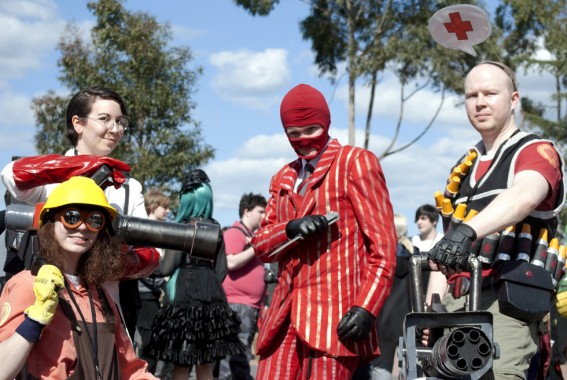 If you're a Melbourne video game fan, don your red skivvy and blue overalls, grab your cardboard weapons and parkour your way to Federation Square this Saturday.
The Academy of Interactive Entertainment (AIE) is attempting to break the Guinness World Record for "Largest Crowd Dressed As Video Game Characters". The previous record was set last year in Wisconsin USA, with 425 participants, but the Melbourne one is well on the way towards beating it: currently, the event's Facebook page has almost 400 listed as Attending, with another 270-odd Maybes.
But be aware, this is an official world record attempt, so naturally there are a few guidelines for participants to follows.
The main thing to remember is the definition of a "video game character". Sounds easy, but it's keep in mind that the character MUST have originated from a video game. It's fine if they've appeared in other media since, but if their first appearance was in film, TV, comics or anything else before they starred in a video game, they are ineligible.
So, Sonic the Hedgehog first appeared in a video game in 1991, before he went on to appear in cartoons and comics, etc, so he's eligible. However, Batman, despite many video game appearances over the years, isn't acceptable, having originated in comics some fifty years earlier.
If you have any sort of video game character costume lying around, slip it on and I'll see you at Fed Square at 11am Saturday 5th May.
Register at EventBrite,  get more details on Facebook, and check the full Guidelines here.