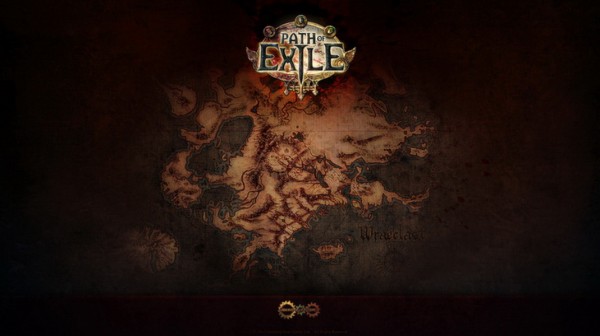 Path of Exile was opened up to the public last week in the form of a free stress test weekend which allowed new players to sign into a previously closed beta.
Public access to the beta lasted 54 hours with a total of 46,911 new and unique users being introduced to the online action RPG.
With so many people participating in a collaborative gaming environment some weird and wonderful things were bound to occur. On our play through of Path of Exile we witnessed everything from online users claiming to be post-apocalyptic messiahs to being a witch and magically shooting down the undead; both bordering on the realm of absurdity.
After downloading a 3.65GB patch and entering the game you'll first have the opportunity to choose your class. It's here where the game first shows signs of high production quality. The voice acting stands out particularly as both a means of delivering the prologue and also immersing you into the game world.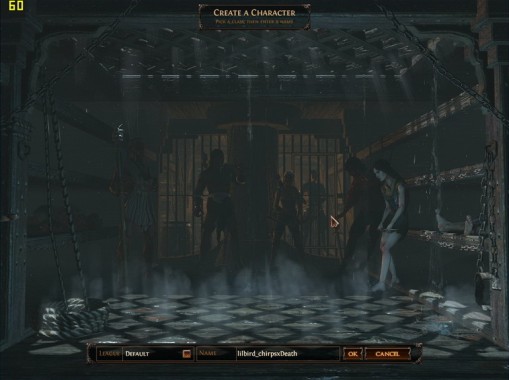 Whilst choosing your class either a guard or a fellow prisoner will mention to you briefly your situation and the context you find yourself in.
Attention Prisoners:
"Ariath has bestowed a gift upon you, a chance to renew your lives. Do well not to squander it"
"Swim straight to the shore, look for others that would help you. You're not the first exiles and you won't be the last"
The character animations and the quality of the graphics found during class selection and actual gameplay look amazing taking into account the stage of production the game is in. (Refer to screenshots)
The game begins with your chosen character being marooned on a beachhead. You encounter another survivor who is quickly killed by an undead-creature- after dispatching it your natural course of action is to loot whatever equipment you can from those you kill. (A simple left click) Items that you don't use are automatically added to your inventory, provided there is space.
One thing that might be a little unnerving for new players is the lack of a tutorial- upon entering the game world you're thrown into the thick of the action – the game has an easy learning curve however so there is no reason to avoid it. After only a short time playing, you'll understand the intricacies of the game – no dedicated objectives menu, (combined with the world map) how to join/create parties and the importance of discovering way points (once you die, you're transported back to the nearest town or encampment- and the distance you have to travel back could be huge- depending on your location) Nearly every single function can be learned just by experimenting or in my experience asking other players.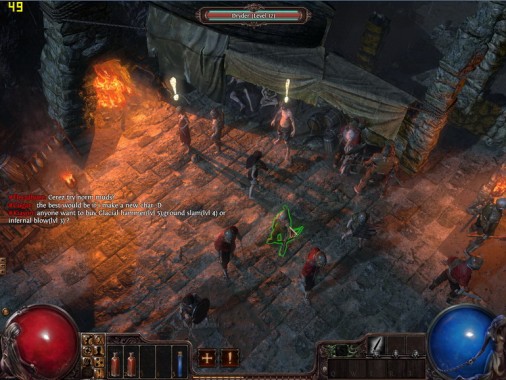 The game has a global chat function which allows you to communicate directly to other players via chat. Often or not this feature is used for good, productive purposes at other times perhaps not so good or productive.
Whilst spending time 'exploring' the game an interesting conversion occurred where a user 'MajiFem' began preaching through the global chat about the end of the world – which lead to talk about spreading herpes. (with various comments in between) An obvious attempt at trolling. According to another user, 'MajiFem' had been doing a similar thing on another online RPG – SWTOR – so If you thought the game itself was interesting- the possibility of crazy antics would be an added bonus.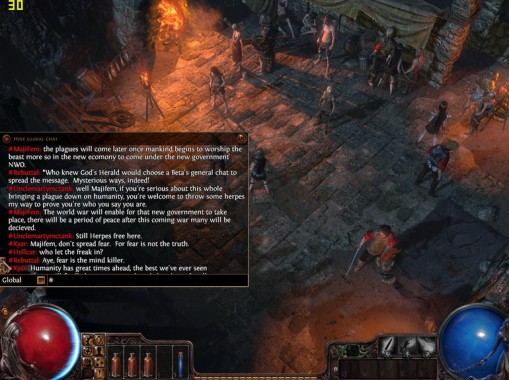 With a test rig consisting of a 2.4GHZ Core2Duo E6600; OC Nvidia 460GT and 2GB ram the average frame rate achieved was 60FPS with maxed out settings; the frame rates drop substantially once you enter user-populated areas; with the average dropping about half to 30FPS.
The game overall runs smooth and looks well polished; it would be tough to identify it as a beta let alone an indie developed game. Users have described it as what Diablo 3 should've been with gamers participating in the public stress test asking for ways to join the beta indefinitely.
Path of Exile will be released as a Free to Play game supported by in game micro-transactions.
For more information on Path of Exile, please visit: http://www.pathofexile.com/
Frame rates were calculated using FRAPS™