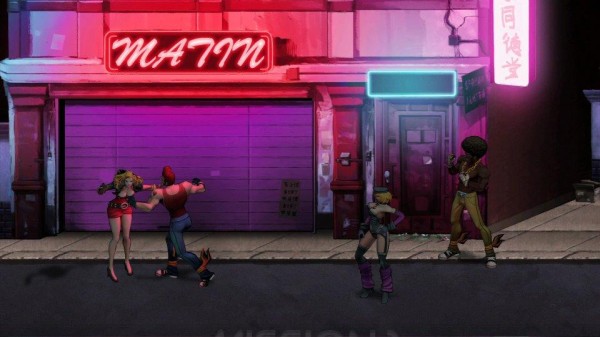 Just yesterday, Double Dragon Neon was revealed to the world by Wayforward, and is now set to hit the Xbox Live Arcade and PSN this summer. If those few screenshots and brief description weren't enough, Majesco have now come forward with new details about the game itself, along with a quote from the developers behind this oh so sexy reboot.
"Double Dragon: Neon is far from a standard retro remake," said Sean Velasco, Director, WayForward. "It's WayForward's love letter to the decade that spawned the franchise – the music, the style, and culture of the 80's pulse through the nucleus of Double Dragon: Neon. But don't think this is a simple graphical facelift; with our innovative 'mix tape' level up system and power-up high-fives, we pushed it to the limit!"
Known for the beautiful aesthetics and renowned gameplay of A Boy and his Blob, Contra 4, Batman: The Brave and the Bold, and BloodRayne: Betrayal, WayForward is applying its focused attention to detail on Double Dragon: Neon. Taking place in a hyper-saturated omniverse, players beat up baddies across earth and beyond against the Black Dragon Clan's most nefarious leader yet– the supernatural scourge Skullmageddon. You could go it alone, but why wouldn't you want to grab a buddy and take your game to the next level with drop-in, drop-out online 'Bro-Op'?!
A love letter to the franchise indeed. From the moment you see the trailer, your eyes will sparkle with nostalgia as even though the visuals and art direction have gotten an overhaul, the core gameplay still appears to stay true to Billy and Jimmy's roots and with Wayforward running the show, we are sure to see a ton of fan service and throwbacks tossed in, such as that awesome starting track. You can check out the new trailer below (courtesy IGN) , and if you happen to be headed to PAX this week, you will also be able to get your hands on the first playable demo at Reverb's booth (#808).