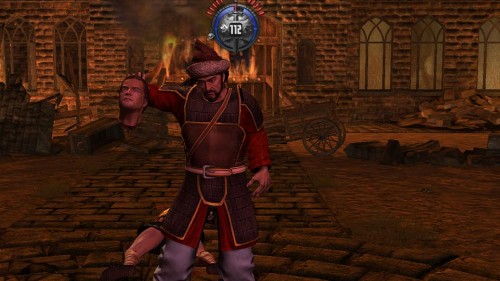 Deadliest Warrior fans, now is your time to go to battle! After a bit of a delay, 345 Games' compilation of Deadliest Warrior: The Game and Deadliest Warrior: Legends has now hit stores everywhere. Of course there is more to this on disc release than just the original two titles though, which is what makes this the more definitive package for any interested parties.
Here is all that is featured on Ancient Combat:
The brand new "Graveyard" arena exclusive to "Deadliest Warrior: Ancient Combat"
30 new weapons, including a "Lockbar Axe" for William Wallace, the "Monk's Spade" for Sun Tzu and a "Tsonga Battle Axe" for Shaka Zulu
Both digital titles and all DLC included for only $29.99
Cross-play with consumers of the original digitally-distributed titles
Hidden zombie mode allows players to keep on fighting even headless, armless and torso-less
Never-before-released episodes of the show exclusive to "Deadliest Warrior: Ancient Combat"
You can pick up Ancient Combat wherever video games are sold for the Playstation 3 and Xbox 360, and stay tuned, as our review will be out soon once we have a chance to give it a whirl.