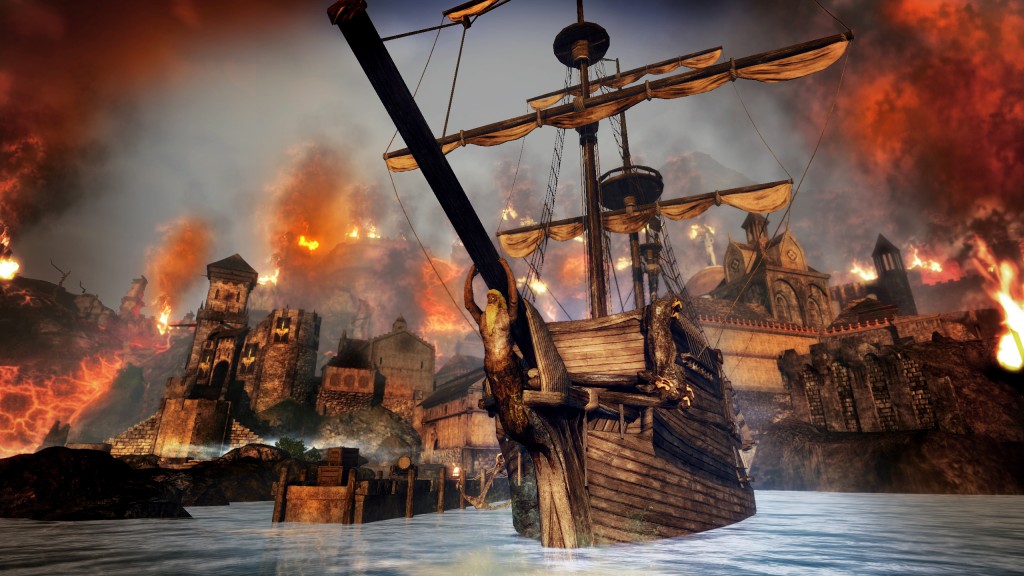 If Risen 2: Dark Waters isn't on your radar yet then I suggest you get that wonky bit of tech fixed. Coming after an original that was banned in certain countries (hi Australia) for copious swearing and the use of alcohol as a bargaining tool, Risen 2 is a pirate RPG that isn't afraid to give you a bit of a kicking. Full of drunken NPC's, attack parrots and coconut throwing, players take on the role of the Nameless Hero in a bid to save the world from rampaging Titans. With skills to learn ranging from swordplay to voodoo, it's a bit of a different package with a difficulty level that will keep you firmly on your booted and buckled toes.
[pro-player width='530′ height='253′ type='video']http://www.youtube.com/watch?v=d2xdBWRUSQ4[/pro-player]
So, to the videos.There are FOUR brand new clips from the  folks over at Deep Silver,showcasing various snippets of gameplay. We see Patty, one of the Hero's companions, meet up with her estranged father, The Nameless Hero takes his pirate oath, learns a bit of voodoo from a priestess and makes use of his new skills on a tipsy pirate. There's also plenty of the games combat system to be seen, a good handful of tropical locations and some ever so slightly out of sync voice acting.
[pro-player width='530′ height='253′ type='video']http://www.youtube.com/watch?v=Jx2jmBYbOSg[/pro-player]
Capsule Computers brought you a big preview of the game back in February, and whilst the game certainly had it's problems at that stage, there was also a lot of promise.You can check out the full preview for Risen 2 : Dark Waters here. The full game should hit PC on April 27, with a console version following for PS3 and Xbox 360 on May 22 for North America and May 25 for Europe.
[pro-player width='530′ height='253′ type='video']http://www.youtube.com/watch?v=gFoiIgH5SUE[/pro-player]