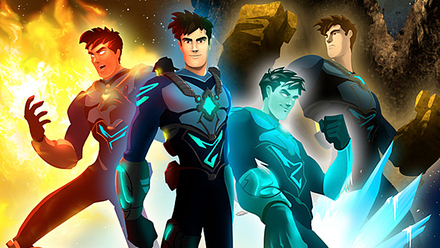 The first update for PSN exclusive Zack Zero has just gone live. You might remember the title from a few months back, when it was released exclusively on the PlayStation Network in January. It was met with something of a mixed reception, scoring a 6.5 here at Capsule Computers: " There is a great game in here just waiting to get out, but sadly every time I started a session it felt inevitable that some little thing was going to come along and push me away." So, there was potential there, just struggling to get out from behind some technical faults and combat problems.
Luckily the development team behind the game, Crocodile Games, is intent on making the game  the best it can be. On that note they have taken into account feedback from media reviews and customers alike, incorporating some of the following changes into Zack Zero 1.01:
Now you can slightly move the game camera with the right stick.

The Level Up screen doesn't appear while you are playing. Press the SELECT button to access it.

Jump and double jump system improvements. Now it's a lot easier to jump and use double jump.

Improved the ability to switch between background and foreground platforms.

Improved combat gameplay, now it's easier to change between Zack's forms and launch continuous attacks.

Adjusted Zack health and reduced some enemies damage, improving the combat gameplay.

Zack Zero doesn't take damage when falling from high places.

When Zack falls to his death repeatedly in the same zone, the video where Zack is falling will show only for the first time.

Highly reduced the number of leaderboard messages.

Fixes for game levels to improve the gameplay in some parts.

Fix for freezing/crashing issues if you start a game while connected to PSN.

Fix for missing particle effects.
And just to make sure that fans of the game know that they are fully committed, Crocodile Games have even created a virtual suggestions box for the game, which you can find here.  I think a round of applause is in order for Crocodile Games.