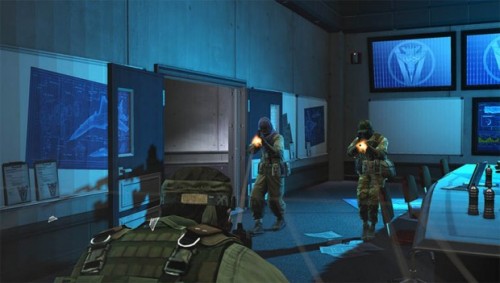 Today, the third person shooter Unit 13 has been released for the Playstation Vita in Australia, bringing adrenaline pumping military shooter action to the powerful handheld. Developed by Zipper Interactive, Unit 13 takes advantage of all the input and connectivity features PS Vita has to offer. Dual analogue sticks offer console shooter controls on the go, in addition to Sixaxis and front and rear touch support to offer an intuitive, immersive experience.
Unit 13, a counter-terrorism squad deployed with only one objective; complete the mission. Missions focus on contemporary scenarios creating an experience that is loaded with authenticity. The 3G connectivity of PS Vita are at the core of Unit 13 and bring all-new challenges and ways of playing to the genre, with daily missions and an online leaderboard access to check how performance rates against PSN friends, or any player in the local area or worldwide. If your friends overtake you in the leaderboards, 3G will alert you instantly.
Unit 13 is now available at all Playstation Vita outlets as a game card and on the Playstation Store as a digital download.