The next title in the Total War series is surprisingly not going to be on the PC. The Creative Assembly is re-imagining the game to work exclusively on mobile platform devices. We should expect a completely different game and not a direct port from the PC version.
Mike Simpson, Creative Director, offers us the following quote:
We're thrilled to bring Total War's compelling real-time battles to mobile devices. We've designed a fresh new interface, combat mechanics and visuals specifically for mobile platforms through the Unity engine. Players will face absorbing new tactical challenges across an extensive narrative-driven campaign, with numerous side missions to explore.
Following a similar storyline to Total War: Shogun 2, players will take control of a young samurai vying for control of the Shogunate. In order to increase influence across the nation, the samurai's army must not falter. Unlocking buildings as well as units will well further the cause of the rising leader.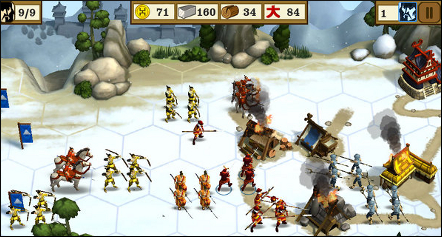 As the visuals and interface are quite different from the PC version, the tactical gameplay remains as you fight in real time battles across medieval Japan. Total War Battles: Shogun will provide over 10 hours of campaign, bonus challenge missions, and a head-to-head multiplayer. Don't miss this excellent adventure when Total War Battles: Shogun hits the iTunes App Store and Android marketplace on April 19, 2012!