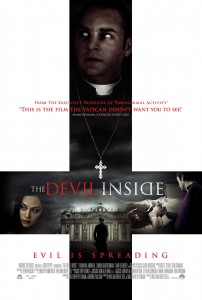 Calling all horror fans! The latest addition to the exorcist genre, The Devil Inside, has been released onto the silver screen! The Devil Inside had an advanced screening in Melbourne, and the reaction certainly didn't disappoint! With people clutching each other, covering their faces, and gripping tightly onto those rosary beads (no joke, they were handed out glow in the dark ones before the flick), the overall impression is that this is definitely a fantastic one for those who love their horror.
The night started with an eerie warning from a priest, and ended with a group of terrified, but definitely pleased people. This is definitely not a movie for the faint of heart, though it might be a good idea for a date where you want someone clinging to you for dear life.
Check out the footage of the preview night below. What do you guys think? Are they just wusses, or is this a movie that will frighten even the most stoic soul? And does this make you want to watch it or run away screaming?
The Devil Inside is OUT NOW. You can catch it at your local cinema. Assuming they aren't themselves scared.