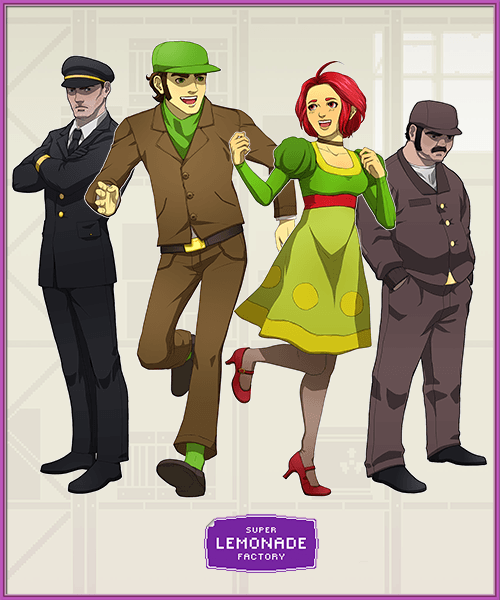 The first game from Initials Video Games, Super Lemonade Factory is set for release Mid-March 2012; just a matter of weeks away. You play Andre and his wife, Liselot. Andre's father offers them his Lemonade Factory, on the sole condition they travel through the whole factory, a task easier said than done. Along the way you'll meet a colourful cast of characters, including the foreman, chef, food inspector, and a general looking for liquid-based supplies for his army.
This single player platformer features using the married couple's complimentary abilities to navigate through levels and solve puzzles to reach the exit. As a whole the art style is bubbly and bright, underlying tones of labour relations and the moral dilemmas of running a business in wartime will seep into conversations, giving the title that hint of maturity about it.
There are 3 "worlds" – warehouse, factory, and office – with 12 levels a-piece, adding up to 72 total! The game also includes an unlockable "hardcore" mode and 12 extra levels available by collecting all the lemonade bottles. With 8-bit pixel-art by Miguelito, and an original chip-tune soundtrack by Easyname, Super Lemonade Factory looks to be a great, indie-developed experience!
It's set for release Marh 2012 on iPhone, iPod Touch and iPad. So set your calendars!