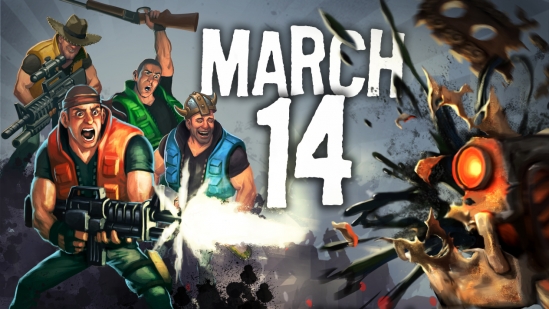 The lingering threat of a robot induced apocalypse is nothing new to us humans – were often reminded of its relevance through film and popular culture. Terminator and Battlestar Galactica for example naturally spring to mind when we think of mechanical entities rebelling against their human masters – massive loss of life and barren wastelands being the result of mechanically fueled destruction.
Flight of the Conchords (a folk parody duo) describes in one of their songs of a bleak near-future where "robotic beings rule the word" and that the "humans are dead"
Demiurge Studios and Ubisoft have teamed up to produce "Shoot Many Robots" a game where you're empowered to prevent such an apocalypse from happening – And as with any large scale destruction of human life; life can often become lonely , The producers have attempted to cure your need for human contact with the inclusion of four-player online co-op and local two player co-op.
Lonely nights can now be a thing of the past as your rag-tag group battles for the sake of human civilisation.
The time has come to 'Shoot Many Robots'™
Available now on Xbox LIVE® Arcade for the Xbox 360® as well as Sony Entertainment®Network.
For more information on Shoot Many Robots, please visit: http://shootmanyrobots.com/
[pro-player width='530′ height='253′ type='video']http://www.youtube.com/watch?v=b7vfoqvL1V4[/pro-player]