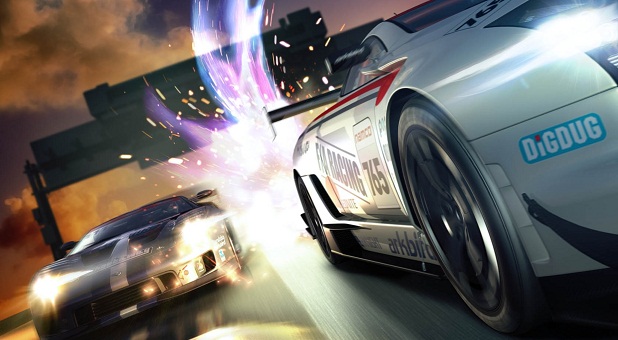 Namco Bandai have unleashed fury onto the streets of Shatter Bay  in their new darker and much more immersive arcade racer Ridge Racer Unbounded, which has now hit Australian and New Zealand retail stores. The cars are full of grunt and raw power, the classic trademark drifting has returned and been fine tuned and the crashes are more explosive and spectacular than ever before. Add to this a plethora of big beats in the form of Skrillex, The Crystal Method and many more as well as the City Creator that allows players to create and share tracks in online multiplayer modes and you have a racing experience like no other.
"This is a big day for one of NAMCO BANDAI Games' most important and historic franchises. Taking this much loved series in a new direction for RIDGE RACER UNBOUNDED was a big decision, and the result is something very different and extremely exciting," said Olivier Comte, Senior Vice-President at NAMCO BANDAI Partners. "Now I'm looking forward to seeing the fantastic track creations and equally spectacular destruction that the online game promises to deliver."
The Day One Edition is available everywhere now for the standard retail price and features heaps of bonus content in the form of 3 extra cars and 5 exclusive themed paint jobs that represent PAC-MAN, GALAGA, TEKKEN, SOUL CALIBUR and ACE COMBAT franchises.
Ridge Racer Unbounded is available from all relative retailers across Australia and New Zealand, for more information please visit www.namcobandaigames.eu
Keep an eye out for more Ridge Racer news