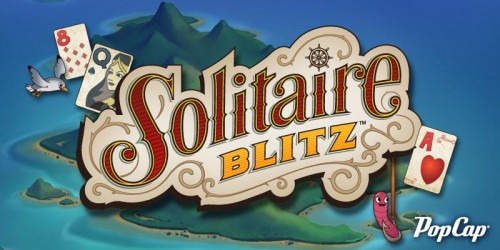 What's better than the age old time-killer Solitaire? Having PopCap put their own spin on it, of course. Today, PopCap have launched Solitaire Blitz for Facebook, which will let users try to match cards and collect treasures as fast as they can, with full bragging rights included.
Much like all the other Blitz titles, Solitaire Blitz will have a 60 second timer and has players rush to match cards in an up-and-down sequence, unlocking silver which can be used to get boosts for even higher scores. Decks also display a 20th century art and literature theme, and there is even a fully orchestrated soundtrack that players can get lost into as they get sucked in to the addictive gameplay.
"We've taken the world's most well-known card game and created an exciting new social version using PopCap's incredibly popular time-based Blitz mechanic made famous by Bejeweled Blitz and Zuma Blitz," said Scott Willoughby, marketing manager for PopCap Games. "We've evolved a traditionally solitary pastime into a friendly, shared experience that's fun for all ages."
Now go, play until your eyes burst and collect all your loot before your friends catch on. You can find the new app here and check out how the game works in the trailer below.