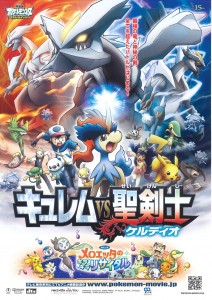 Are you prepared for Keldeo? Unless you are a bronie, probably not, but The Pokemon Company is hoping you are with their 15th instalment in the Pokemon anime film series.
The latest instalment in the franchise will like always focus on a new pair of legendary Pokemon that Ash and friends will of course encounter, befriend and possibly battle. This time around those legendaries are Keldeo and Kyurem, both of whom are featured in the title of the film; Pokemon the Movie 15: Kyrum vs. The Sacred Swordsman Keldeo.
A trailer for the film has been released and can be seen below. We recently reviewed both versions of movie 14 which you can view here. Be sure to let us know what you think of the trailer for Pokemon the Movie 15 by leaving a comment in the shoutbox and comments section.