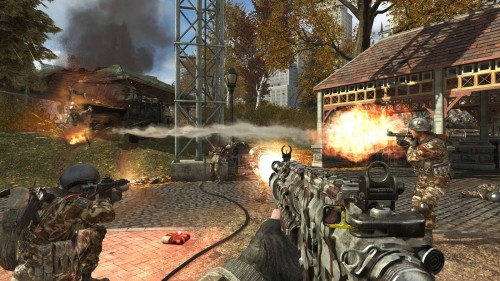 Elite Members who own a PS3 have something to celebrate about, and that is that both Liberation and Piazza have kicked off for Call of Duty: Modern Warfare® 3's Content Season, and of course is exclusive for those who payed their subscription fee.
Here are some details of what to expect:

Liberation, a militarized Central Park in the heart of NYC, features a vast landscape ripe for long-range sniper and LMG kills. Mounted turrets on opposing ends of the map offer overwhelming firepower to anyone brave enough to man them. Elite Drop 2: Piazza, set in an idyllic Italian seaside village getaway gone rogue, offers blind corners and a complex network of branching pathways that pose danger at every turn. Visceral close-quarters combat dominates in Piazza, and attacks from above and below are an ever-constant threat.
Of course this is just the start of a nine month content season, which will let all Elite users download more than 20 pieces of DLC. The next Call of Duty Elite Content Drop for Premium Members on the PlayStation Network is scheduled to land on March 29 with the release of Overwatch, a multiplayer map that drops players into a construction site atop a New York City skyscraper.