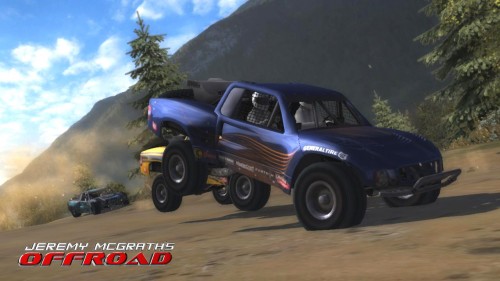 Upcoming off-road racing game, Jeremy McGarth's Offroad will be getting a release on digital platforms during the second quarter of 2012. The game is being developed by 2XL Games and will be available for purchase on Xbox Live Arcade and PlayStation Network.
As the name of this off-road racing game suggests, the game will feature seven-time AMA Supercross world champion, Jeremy Mcgarth. Players will take control of four-wheeled off-road racing vehicles which will include rally cars, pro buggies, and pro lite trucks. Threre will be several tracks, vehicles, and both single and multiplayer modes of play.
The online multiplayer will allow eight players  to race against each other and the full fledged career mode where players step into the shoes of Jeremy Mcgarth himself and work towards winning the championship.
"Teaming up with Jeremy to create our frenetic racer is a dream come true for me and the rest of the 2XL Games team," said Robb Rinard, director at 2XL Games. "We can wait to deliver our brand of smooth arcade-style gameplay to racing fans everywhere."
"I am super excited about this game…the graphics look awesome and my Monster Energy Pro 2 looks exactly like what I am racing right now in the Lucas Oil Offroad Series," said Jeremy McGrath. "It's great to see something that started as an idea turn into a killer video game thanks to the guys at 2XL Games!  I am sure my fans from both moto and offroad are going to love it."