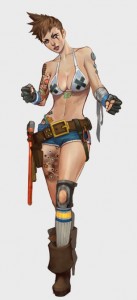 Girl Fight is an upcoming 3D fighting game being developed by Kung Fu Factory and produced by Microprose for the Xbox Live Arcade and PlayStation Network. The game will feature an all female cast of fighters who have to fight their way out of an evil organisation called 'The  Foundation'.
Following the teaser announcement a while back, we now get some more solid information about the game as the developers have shared the first female combatant along with her stage. This character is Wrench, a gifted engineer, physicist, and scientist. With noble prizes and ground breaking research, she sounds like a typical nerd but is in fact a 'Tank' class character who really packs a powerful punch.
So far this all looks very cool, and hopefully we will get to see some in-game action very soon.