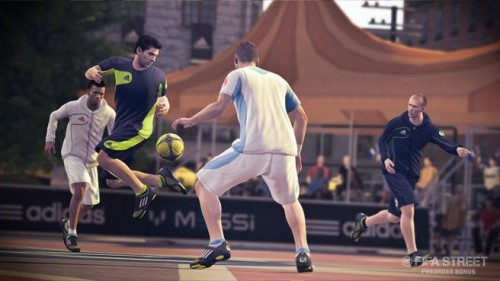 EA have unleashed the FIFA Street demo into the Xbox Live Marketplace and PlayStation Network for Xbox 360 and PS3 respectively, so go forth and download it now for free!
The demo features the iconic Amsterdam Square stadium as well as four unique teams including Manchester City, AC Milan, a real-world street football star studded team, as well as the Adidas all-star team including Lionel Messi and 12 of the world's best players.
You will also get the chance to kick off World Tour mode, where you can create yourself and squad in addition to getting a little preview of the full mode. You can then carry on from this once you purchase the full game.
Download your friends' created players and you can unlock the Freestyle Challenge tournament on the Shanghai Rooftop.
Don't forget to pre-order FIFA Street to gain access to exclusive features such as the Adidas all-star team. You will also get a Barcelona venue inspired by street football in Placa de Catalunya in the historic center of the city, a venue which Messi helped design.
FIFA Street will hit shelves on March 15th for Xbox 360 and PS3. Check out one of the latest trailers down below featuring the Premier League teams.