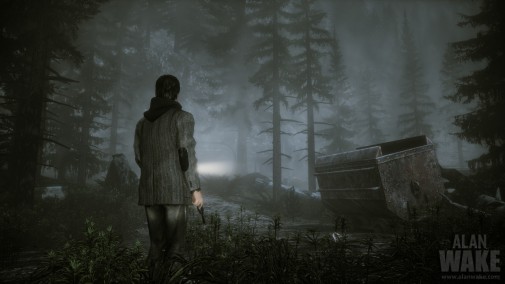 The PC release of Alan Wake on digital platforms like Steam went swimmingly, and now its time for the retail package to present itself. Nordic Games has released the Standard and Collector's Edition boxed copies of the game today.
Alan Wake Collector's Edition includes two Bonus Discs crammed with exclusive content. This includes The History Of Remedy, The Making Of Alan Wake, The Making Of A Thriller, the music video "War" by the "Poets of the Fall", several trailers to the game, all in-game cinematics with storyboard concept art, the teaser trailer of "The Signal", the launch trailer of "The Signal". The launch trailer of "The Writer", as well as two more features "Building the technology" and "Building a Thriller".
Also included is The Alan Wake Files; a 144-page publication extra with evidence on the mysterious incidents around Alan Wake and Bright Falls, compiled by the fictitious author Clay Steward.
The Standard and Collector's Editions of Alan Wake both include the main game, with optional commentary provided by Remedy (Collector's Edition only) and both DLCs – The Signal and The Writer – on disc one, while disc two hosts the official soundtrack, comprising 13 tracks.
Also in the box are six post cards featuring different scenes from the game, the manual, a double-sided poster and seven stickers with different scenes and characters from the game.
Alan Wake and Alan Wake Collector's Edition are available to buy on PC from March 2nd, today, priced at £29.99 for the Standard Edition and £34.99 for the Collector's Edition.