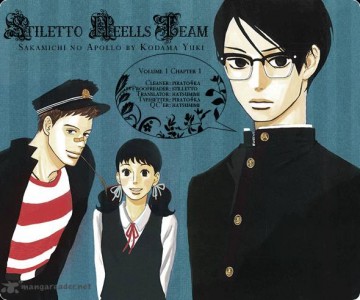 Sakamichi no Apollon is shaping to be one of the most unique slice of life anime to come out in years. Not only is it backed by the very same studio that gave us the highly popular Cowboy Bepop series, but just the premise alone sets it apart from anything else that is out there at the moment.
The anime takes place in Japan as it was during the 1960s, and that alone is going to be very interesting because we will get witness story telling and character development in a Japanese setting that is from modern day Otaku noise. No video games, no androgynous fetishes, no modern day Japanese pop culture references. This will be an interesting insight into a Japan that not many anime fans are fully aware of.
The show premiers sometime in April, in the meantime, check out the character and cast listing below:
Kaoru Nishimi (voiced by Ryohei Kimura)
Sentarō Kawabuchi (Yoshimasa Hosoya)
Ritsuko Mukae (Yuuka Nanri)
Yurika Fukahori (Aya Endo)
Junichi Katsuragi (Junichi Suwabe)
Mukai  (Zenki Kitajima)
Seiji Matsuoka (Nobuhiko Okamoto)
Shigetora Maruo (Ayumu Murasae)
An adaptation of the manga, this anime is definitely going to be something special as the team includes individuals that have worked on classics like Cowboy Bepop, Ghost in the Shell, and Battleship Yamato.