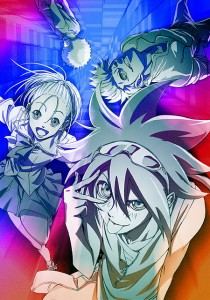 Because the Playstation Portable is still going strong in Japan, the recent anime series Phi Brain: Puzzle of God will be getting a video game adaptation for the handheld console.
Phi Brain is an anime about a group of genius teens who solve puzzles and battle against 'givers' of the POG organisation in dangerous sage puzzles.
No details on the upcoming game's details have been revealed however we do know that the game will be released at the end of May 2012. It can be presumed however that players will be required to solve puzzles, considering that is what Phi Brain is actually about.
Oh and for anyone hoping this would ever leave Japan – No.