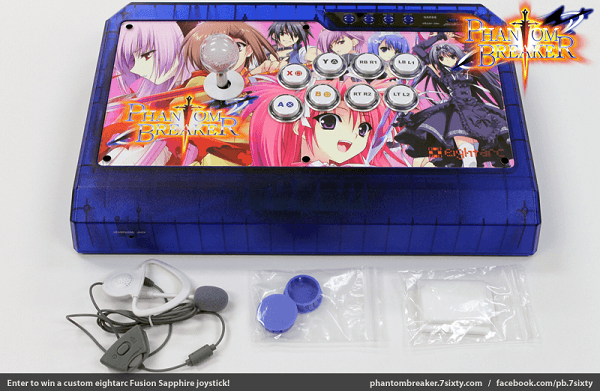 There are two ways to play a fighting game, and most hardcore fans of the genre will know that the best way to play some of these titles is with a fancy joystick that would provide the extra arcade feel that they love. Now while joystick are great on their own, themed ones are even better.
7sixty has announced today that they will be holding a contest that will be giving two lucky winners a custom Fusion Sapphire joystick courtesy of eightarc. As you can see in the picture above, the joystick will feature a custom Phantom Breaker top on the Fusion Sapphire body. Given that these joysticks are high in demand and the average cost runs at $199.99 this will be a priceless addition to anyone's collection or may just make your skills even better when Phantom Breaker is released sometime early this year. Those interested in entering the contest can do so in two ways. They can enter through the Phantom Breaker website here, or through the Phantom Breaker Facebook here. The contest is currently set to end on February 14th.
Also revealed today by 7sixty was some gameplay footage from Phantom Breaker which can be seen below. This video features a one round battle between Infinity and Fin, albeit a very one sided one.