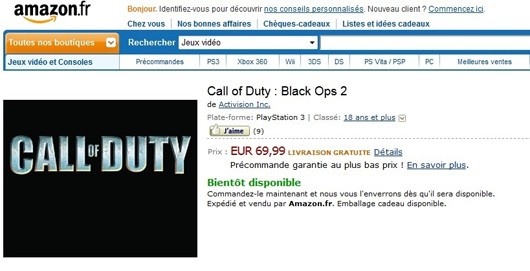 According to a recently pulled Amazon France listing, the next Call of Duty game will be a sequel to Black Ops, titled Call of Duty Black Ops 2.  A LinkedIn profile also had a job listing which described work on Black Ops 2, but it was deleted in a hurry.
Activision has reportedly already bought several Black Ops domain registrations for sequels, so this reveal is not a big surprise. However, it is nonetheless interesting to see how they are handling their money making franchise.
The other interesting part about this story is how it broke. The French site Gameblog was the first to report the Amazon listing.  They report that after the article was posted, Activision "demanded" it be taken down.  After refusing to comply with the order, Activision stripped Gameblog of an invitation to an  upcoming Transformers: Fall of Cybertron preview event, and pulled all advertising off the site.
Source: Joystiq, Game Politics