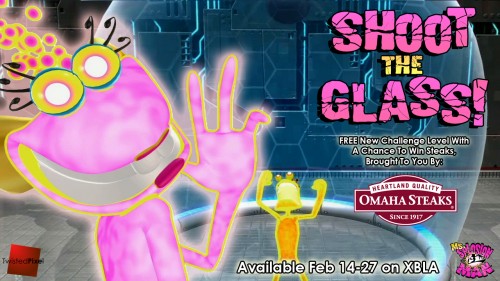 Running from February 14th to February 27th is the third installment to Ms. Splosion Man's themed challenges. The newest competition is called "Shoot the Glass" and requires the player to break 33 panes of glass throughout the level. For every glass that is not broken, the player will gain 10 additional seconds to their overall time. Placing as the top five on the leaderboards will grant you the amazing award of an Omaha Steak Filet prize pack.
Here are the contest rules:
Contest runs only from February 14th – 27th.
Only the best five (5) scores can attain the prize.
Contestants must reside in the continental U.S. due to edible food shipping regulations.
Twisted Pixel cannot wait for challengers to step up to cause massive explosions. If you cannot share an impulsive explosion on Valentine's Day, then where is the love? Check out the "Shoot the Glass" screens below, and salivate by clicking on the Omaha Steaks' website (Here).
[nggallery id=450]