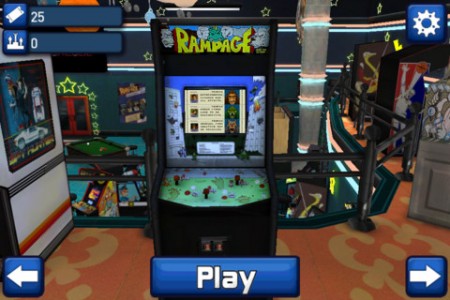 Warner Bros. Interactive Entertainment today announced it has released Midway Arcade App for iPad, iPhone and iPod touch. The collection of 10 old arcade titles is now available on the App Store for $0.99 – and won't require any additional tokens or pumping of coins into the charge slot to replay. You'll be free to play these retro games for as long as you like on any of the games on the list:
Spy Hunter: Race down a freeway in an armed sports car and destroy enemies while protecting civilian vehicles;
Rampage: Reduce the city to rubble as gigantic monsters George (a King-Kong-like gorilla), Lizzie (a Godzilla-like dinosaur/lizard), and Ralph (a giant werewolf);
Defender: Defeat waves of invading aliens while protecting astronauts in this 2D shooting game;
Joust: While riding a flying ostrich, fight to defeat enemy knights riding buzzards;
Root Beer Tapper: As the bartender, serve beer and collect empty mugs and tips without letting the thirsty patrons' patience expire;
Arch Rivals: In this Basket Brawl, outscore opponents as a crowd pleaser, rebound king, a defensive giant and more;
Skill-Based Games: Beat your friends' top scores in Pool, Air Hockey, Roll Ball and Basketball.
Two additional game packs are available through In-App Purchase too, and include:
Fantasy Game Pack
Gauntlet I: Hack and slash through monsters as they try to exit the dungeon maze;
Gauntlet 2: The monsters return in this acclaimed sequel, with all new levels, and challenges;
Wizard of Wor: "Worriors" must make their way through monster-infested dungeons to destroy the Wizard of Wor.
Action Game Pack
APB: Playing as Officer Bob, a rookie police officer, pursue law–breakers, cite and arrest criminals – and pick up donuts along the way;
NARC: Arrest and kill drug offenders, confiscate their money and drugs, to defeat Mr. Big;
Total Carnage: As a member of the Doomsday Squad, invade evil dictator's General Akhboob's base and destroy mutants, rescue hostages and capture Akhb oob.