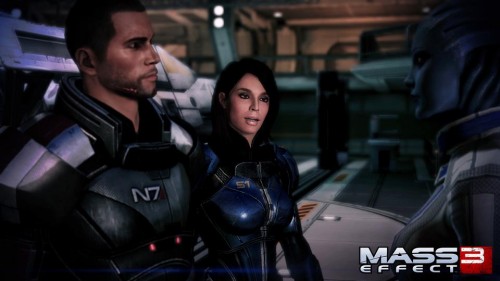 WIN: Mass Effect 3 & Strategy Guide
Mass Effect 3 is one of the most anticipated titles in 2012!  We have two copies of the game on either XBOX or PS3 to give away and we want YOU to win a copy!
So how do you win? It's easy! Just follow these simple steps:
Don't forget-you MUST Like both pages FIRST then post the code phrase on the Capsule Computers Facebook wall, then Bluemouth Facebook Wall in order for your entry to be considered. The phrase is:
"We Fight Or We Die!"
Make sure to tell your friends as well: like the Capsule Computers Facebook page, like the Bluemouth Facebook page, then post the code phrase as a comment on both Fan pages. It's easy! Good luck to all entrants!
**SPECIAL NOTE**
If you are a lucky winner & you have referred others to join up, you will also win either 2 xbox360 or 2 PS3 controllers as a bonus, plus a HDMI cable!
To win the extra stuff  enter the following POST "Code" at Bluemouth's Wall.
"We Fight Or We Die! & @Phil sent me (for referrals)." – or –  "We Fight Or We Die! & @No-one sent me"
For extra chances to win these controllers, you can also SHARE something like
"@Bluemouth Interactive has an awesome Mass Effect 3 comp to winner over at ….Get on over"
We'll know they've done it so we can take note of your entry so make sure you share this out to all your friends, and get them to refer you so you have a bigger chance of winning both the game/strategy guide and the 2 controllers of your choice.
Competition is open worldwide  and winners can elect to receive either the Xbox 360 or PS3 format of the game.
–
Follow us on :

Twitter |

FACEBOOK |

YouTube |

Google Plus |

RSS
Note ** Competition  open to worldwide audiences
Check out our other Competitions here