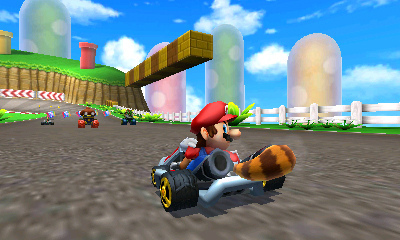 As many 3DS owners now know, Mario Kart 7 is now the racer to have on the platform. Nintendo of Australia are elated by the success, and want you to gas up your own kart and prepare for a race with the staff. This event of sorts will be under the name Nintendo AUS/NZ Community for Mario Kart 7's online mode, and is open for inhabitants of either country.
Here is a quick run-down on how you can sign up:
· To join the Nintendo AUS/NZ Community all you have to do is have a copy of Mario Kart 7 on Nintendo 3DS
· When in Mario Kart 7, choose the 'Mario Kart Channel' option from the Main Menu to set up your online save file
· Choose 'Online Multiplayer' from the Main Menu
· Choose 'Communities'
· Choose 'Recommendations' and select 'Nintendo AUS/NZ'
· Or alternatively choose 'Enter Code' and enter the community code 39-7327-4613-9024
The first challenge will be racing the staff at Nintendo Australia, Monday 27th February 2012, 6:30pm – 7:30pm (EST).
If you are wanting to socialize for this race, use the hashtag #MK7AUNZ on twitter and for future event dates, stay tuned to http://gamesites.nintendo.com.au/mario-kart-7-community/