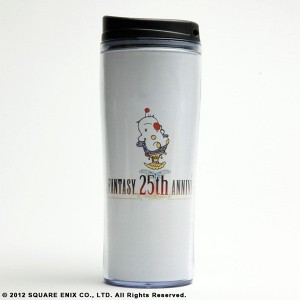 Square Enix modern day producers of the Final Fantasy series are celebrating the franchise's 25th birthday with a special release of merchandise.
They are releasing promo goods with art from Final Fantasy VII: Advent Children, Final Fantasy XIII-2, Theatrhythm Final Fantasy, and also some classic chocobo and moogle artwork with the 25th anniversary editions.
The promotional goods include tumblers and sets of playing cards, using classical character and classic-style chibi characters. For the traditional Final Fantasy fans this is a must have, as they go back to the absolute first games, when the company Squaresoft was still producing the franchise.
Personally these collectables could not be shipped to my house fast enough.