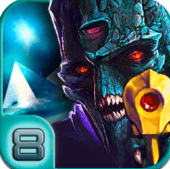 The eighth installment of Gamebook Adventures is set to launch, taking the franchise on a totally new path, with a new interactive science-fiction based story, Gamebook Adventures 8: Infinite Universe. And for free!
The eighth Gamebook app leaves the player stranded in the future with no memory of the past or how you got there. You have been selected for a super secret dangerous solo mission to kill, or capture, the leader of a rebel army known as DWORF. So get your amnesiac ass into gear – the Mandelian Empire of the Tau Ceti system is in your hands!
Tin Man Games Creative Director, Neil Rennison, had this to say about the game:
"Since day one of Gamebook Adventures we've had fans contacting us wanting an adventure set in the sci-fi genre. Our new title by Andrew Drage doesn't disappoint, taking place in a fully designed universe in much the same way that we have our fantasy titles set within a fully realised fantasy setting."
The first 300 sections of Infinite Universe are available completely for free, with the last section costing you. Each of the five chapters being $0.99 each, or all of the chapters able to be unlocked for $3.99.
So, get going and grab Gamebook Adventures 8: Infinite Universe for FREE for iPhone and iPad HERE.