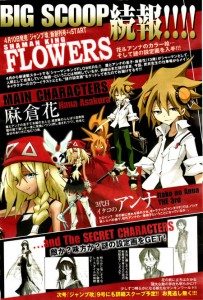 The sequel to the popular manga Shaman King, known as Shaman King – Flowers is set to make its debut in the Jump Kai magazine in April. In anticipation of its debut Jump Kai magazine featured a first look section recently giving fans of the series a look at the characters and some details on the plot.
The new manga is set to star the original protagonist's son, Hana Asakura. For those that do not know, Hana is the Japanese word for Flower, thus revealing the reasoning for the 'Flowers' in the sequels title. Little is known about the plot of the series other than it follows on directly from the previous series however now starring Hana instead of his father Yoh.
You can check out the first look page to the right (click to enlarge). Be sure to let us know what you think in the shoutbox and comments section.