"Street Fighter is 110% in my f**king blood!" Says hardcore vocalist Frank Palmeri of Emmure, "I cannot get rid of it!" To help celebrate the 25th anniversary of Street Fighter, frontman of popular hardcore band Emmure has teamed up with Capcom and All In Merchandise to make the following video you can see below, where he reveals the impact the popular fighting franchise has had on his life. This guy could seriously be one of Street Fighters biggest fans. Why you ask? Well for starters he has the Shadaloo symbol on his freaking throat!
Amongst not only showing off the Shadaloo symbol on his throat, Palmeri also has another three Street Fighter tattoos on his body: his favourite character M.Bison tattooed on his leg, the Kakanji symbol that appears on Akuma's back on his wrist, and the word Shadaloo tattooed across the bottom row of his knuckles.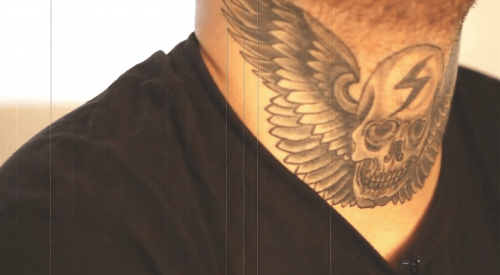 You'd think that'd be enough love for Street Fighter, but Palmeri takes it yet another step further. The video goes on to reveal that the lyrics of two songs from Emmure's latest album, Speaker of the Dead (2011) are actually written about Street Fighter! 'Demons with Ryu' is based on the Ryu's belief of not earning medals of recognition but rather constantly improving himself, while 'Last Words to Rose' is about the relationship between the characters Rose and M.Bison. So basically this guy screams about Street Fighter for a living. Jealous much?
However this isn't that surprising, as hardcore Emmure fans would've already known that Palmeri is a straight up geek, as many Emmure song titles contain many references to pop culture such as 'Children of Cybertron' and crowd favourite 'R2deepthroat'.
Make sure you check out the video for yourself below. Emmure's new album, Slave To The Game, will be available April 10th through Victory Records.