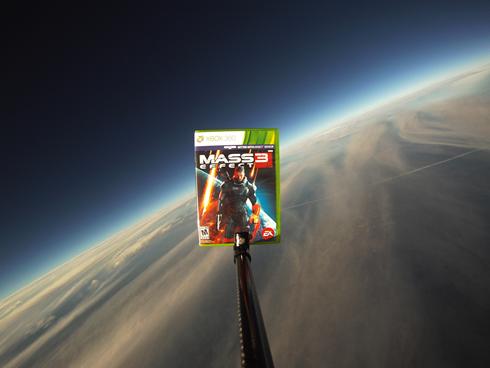 Mass Effect 3 is officially out of this world – publisher's EA are taking hype to new heights by launching copies of the game into space! An undisclosed number of weather balloons will lift off from New York, London, Berlin, Las Vegas, Paris and San Francisco next week. Each will bear a copy of the game and be fitted with a GPS tracking device, which will report the current location of the balloon to the official Mass Effect website.
Fans in the right area who are desperate to get their hands on the game will be able to track the balloons online and snatch them up from their landing zones, scoring one of the most heavily anticipated titles of the year almost a full week before the rest of the world. So if you're near one of the starting zones, make sure and watch the skies!
Today also marks the unveiling of the online co-operative multiplayer phase of the Mass Effect 3 demo, so make sure and boot up that demo just one more time (or many many more!) to get a taste of what's to come when the full title drops on March 6.