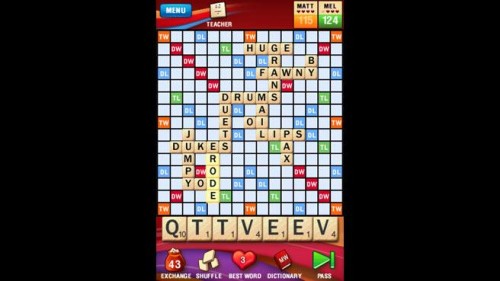 Were you playing Scrabble on your iOS or Android device during the award ceremonies last night?  Did you happen to "steal" and use any of the words that were said during the show?
If you did, then EA knows exactly what happened.  After all, they collected the best words that were said last night and even paired them up with an equivalent SCRABBLE score.  Have a look at the list below:
·         Inexplicably – Score: 28 (Meryl Streep, Best Actress, "The Iron Lady")
·         Indefatigable – Score: 20 (Eugene Gearty, Sound Editing, "Hugo")
·         Provocateurs – Score: 17 (Christopher Plummer, Best Supporting Actor, "Beginners")
·         Prosthetics – Score: 17 (J. Roy Helland, Makeup, "The Iron Lady")
·         Chameleon – Score: 15 (Gore Verbinksi, Director "Rango")
·         Financier – Score: 14 (Michel Hazanavicius, Director, "The Artist")
·         Resilience – Score: 12 (Sharmeen Obaid-Chinoy, Documentary Short, "Saving Face")
·         Virtuoso – Score: 9 (Colin Firth's introduction speech for Best Actress)
If that got you in the mood to play Scrabble, then jump on over to your favorite App Store and download it. Its free. Check out EA's official  Scrabble  site for more information.