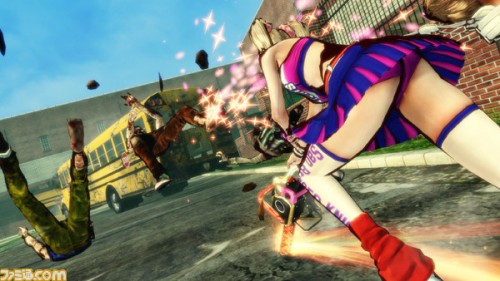 Kodakawa and Grasshopper Manufacture have just unveiled some extras for the Japanese version of Lollipop Chainsaw. The premium edition of the game will come in two different boxart flavours, one for the Xbox 360 and the other for the PlayStation 3, and they both look really hot.
Even better are the exclusive costumes for the lovely main character of the game, Juliet Starling. The PlayStation 3 version gets the cute red maid outfit and the Xbox 360 version gets the sexy skin tight purple leather outfit.
Keep in mind Japan is actually getting two versions of Lolliopo Chainsaw, with one being the uncensored adult version and the other being the mature version. It's not a big deal, considering that the only reason why the Japan-only Xbox 360 version of No More Heroes: Paradise got an adult rating was because of the red blood.
I know which version I'm getting, which one tickles your fancy?