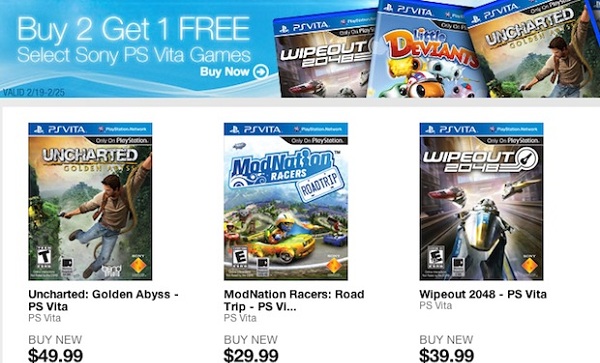 With the PlayStation Vita being released worldwide to everyone who didn't buy a pre-launch bundle it only makes sense that some video game deals would be popping up at various retailers. However, much to most deal seekers surprise, the deals have been very slim in North America. However that has just changed as GameStop and Target (and Best Buy with price match) revealed a promotion where those who buy two PlayStation Vita games receive one for free.
At GameStop only Sony published titles are eligble, which means you can pick up the following titles below and activate the deal:
Uncharted: Golden Abyss
ModNation Racers Roadtrip
Wipeout 2048
Little Deviants
Hot Shots Golf: World Invitational
Target and Best Buy's offer extend to all PlayStation Vita games, however it seems that some Targets are not offering the promotion so it would be best to call ahead to see if the deal is honored at the location nearest you.