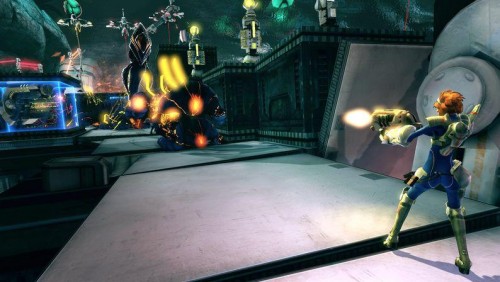 To celebrate the multilanguage localization of the FPS/tower defence Sanctum, the game will be available today at 66% off on Steam.
"We are absolutely thrilled to announce that Sanctum can reach a wider audience with added language support," says Anton Westbergh, CEO and Producer of Sanctum. "We hope that this update, which is obviously free, will allow people an opportunity to play with their friends and competitors around the world more easily."
In Sanctum, one of the best-selling indie games of 2011, you play as Skye, a soldier protecting her home town of Elysion One from invading aliens. To fight off the mysterious creatures, you will have to build and upgrade defensive structures and when a horde of aliens ambushes – you attack! Choose one of the five kick-ass weapons and join the action! The game features four-player support, seven new maps to add to the original three, four challenging game modes, eighty seven achievements and is now also available in Russian, Japanese, French, German and more.
Be quick, this deal on Steam ends at 1pm US EST.