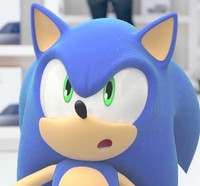 Sonic the Hedgehog, everyone's favourite blue douche, has been featured in a new TV commercial for Progressive Insurance. The commercial seems like a very strange mix, until you take Sonic's new catchphrase into account – "You're too slow!"
You can check out this bizarre commercial below. With this commercial Sonic teams up for the first time with Flo the spokesperson of Progressive Insurance, because that was definitely a hotly demanded crossover from fans of both speedy blue irritations and insurance.
Watch the commercial and let us know what you think of this crossover born from the loins of all that is unwanted.