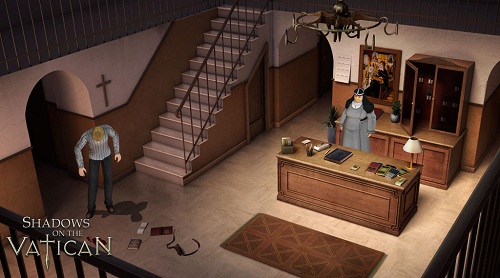 The English version of Shadows on the Vatican – Act 1: Greed is now available for pre-purchase for $7.49USD on Zodiac, a new digital delivery platform primarily on adventure and casual games.
The first of four acts, Act 1: Greed introduces players to the protagonist, James Murphy, an American ex-priest who goes back to Rome after his best friend Cristoforo asks for help. As James digs deeper to what at first was just a missing briefcase containing compromising documents, he gets himself into something more shady and sinister especially with the Vatican's apparent involvement. With James' favorite Roman barman aiding them and the sudden appearance of a beautiful but dangerous woman, what awaits James and Cristoforo in the Eternal City?
Act 1: Greed is a point and click thriller featuring well integrated puzzles and several hours of gameplay. Shadows on the Vatican – Act 1: Greed will be available for download on the 6th of February.