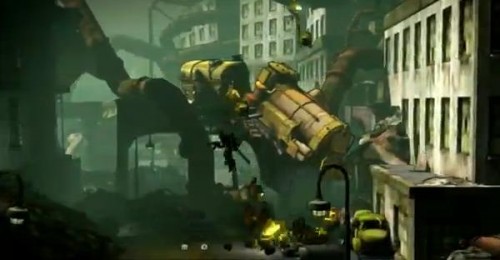 Demiurge Studios have been busy at work on their upcoming PSN/XBLA release, Shoot Many Robots. While the name is awesome on it's own, this side-scrolling shooter looks to have some frantic and fast paced gameplay that is sure please any fan of Metal Slug or Contra, who have been needing some bolt bashing greatness in their lives.
At first glance, the first stand-out feature of Shoot Many Robots is the beautiful presentation value that was applied to each and every environment. The team at Demiurge recently released a new behind-the-scenes video that details the work that went into making these vivid worlds, and what's told is actually quite interesting. For instance, in order to render an environment, specific colors were used to capture the main protagonists movement. When this nearly colorless mode was tested (as seen in the clip) with our orange hero, the final result resembles that of Limbo. There are plenty of other lighting examples shown off as well, so while you await the debut of So Many Robots, check out artwork in action down below.
Once we receive word on an official date, we will be sure to bring out an update.