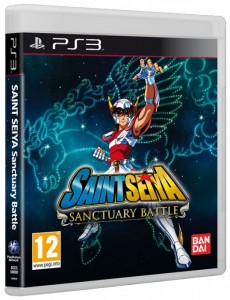 Saint Seiya Sanctuary Battle, came out late last year in Japan and it's European launch is fast approaching. As you'd imagine more information regarding the titles European release will begin seeping out. We now have an official box-art for the European release which can be seen to the right.
The box-art features Pegasus Seiya in his famous stance, with the Pegasus constellation behind him. The title is set to star the anime series massive cast in what could be the Saint Seiya game fans have been begging for for years now.
What do you think of the European box-art for Saint Seiya Sanctuary Battle? Let us know in the shout box and comments section below.