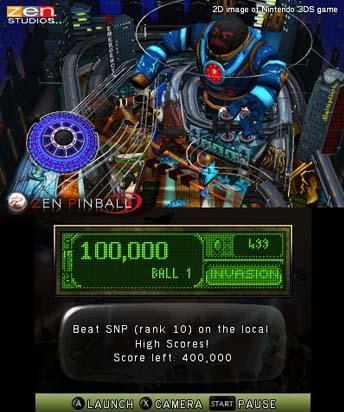 Tuck those quarters away, as this week's eShop update is ready to save you a ton of coinage on the game of Pinball. After a bit of anticipation, Zen Studio's Zen Pinball 3Dhas finally hit the eShop at a nice, cozy price of just $6.99. This portable version packs in four classic tables, such as Earth Defense, Shaman, Excalibur, and Eldorado. As you would expect from the pinball gurus, this offering provides players with stunning 3D visuals, online leader boards, and a bevy of other features to keep you coming back for more.
What's that, more pinball you say? 101 Pinball World is also out for the DSiWare service for just $4.99. As the title states, 101 Pinball World lives up to it's name and delivers 101 "amazing" tables in 4 unique worlds.
For the rest of this update, I think a good rap is in order.
(Begin Beat Box Sound Effect Here)
If Pinball-is not your thing
Then scroll on over to Hip Hop King!
Hip Hop King: Rytmik Edition lets you make your own beats,
with scratches and instruments to get you tapping those feets.
At a Price of just $7.99,
you'll be popping those rhymes on the go in no time.
But wait, but wait! Don't you see!
Nintendo Video also has a downloadble episode of Kirby!
Right Back at Ya is here is now in 3D,
And don't forget about the new Carmen Sandiego, Made exclusively for the Wii!
So yeah, there you have it. I'm retiring after my debut in hip-hop, and in the comment section below, you can do us a favor a let your choices for this week's Nintendo downloads be known!