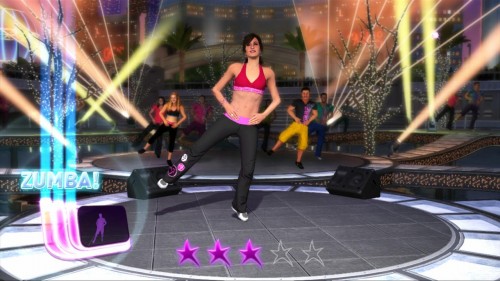 Zumba fans already know that Zumba Fitness Rush is preparing to launch on February 14th, exclusively for the Kinect. Now it seems you can also look forward to the multiple add-on packs as Majesco recently detailed what we can expect with the post-launch DLC.
A three-song Bollywood style pack available in May addresses consumer demand for more of the trendy dance style and expands upon the Indian choreography in the game, and a Hip-Hop style pack out in September offers three additional songs that will include hit tracks from today's popular artists.  Each Game Add-on pack will be available on Xbox LIVE Marketplace for 400 Microsoft Points.
"Zumba® Fitness Rush is a truly exciting addition to the Zumba® Fitness video game franchise," said Jesse Sutton, Chief Executive Officer, Majesco Entertainment. "This high-quality experience built for Kinect for Xbox 360 offers a wealth of exclusive content to fans, and then delivers even more post launch with multiple Game Add-on packs. The February 13th launch of Rush is the company's largest integrated marketing program to date, and we are thrilled to have Microsoft's support around the world to bring this exceptional product to market."
You know, it's kind of refreshing to see a company announce their plans ahead of time in this manner for DLC, as the fans can be aware of both the price and content ahead of time. With already 42 songs in Zumba Fitness Rush already though, there looks to be plenty of reason to snag up this latest fitness dance title when it launches next month.