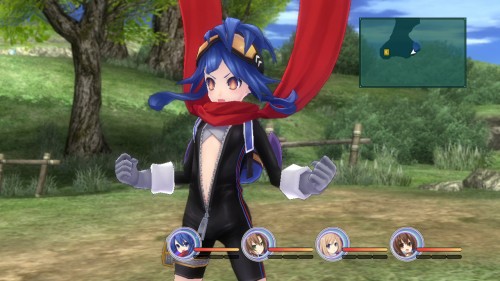 Or at least that is what the ESRB thinks. Last year when Hyperdimension Neptunia was released by NIS America the title was given just a simple Teen rating but this time around when the ESRB rated the sequel, they figured that it would be best to give it a Mature rating instead. Now the full rating can be seen below, and is certainly an interesting read as it has been quite some time since we've seen an interesting ESRB rating.
This is a role-playing game in which players control a young goddess on a quest to rescue her sister from an evil organization. As players advance the storyline, they use swords, lances, over-sized syringes, and colorful light attacks to engage in turn-based combat against fantasy creatures (e.g., slime monsters, dragons, robots); damage is indicated by impact sounds and a loss of hit points. Some female characters are dressed in low-cut outfits that expose large amounts of cleavage or buttocks.

A variety of scenes depict a supernatural villain who harasses female characters and makes sexually suggestive comments (e.g., "Come, come and sit on daddy's lap. We'll have fun exploring each other," "You can be a cunning linguist, my dear," "I'm dying to leer at her longingly," and "Mmmm, the height of ecstasy, licking a nubile maiden's wounds!"/"No, hey stop . . . I said stop it!")—accompanying licking sounds can be heard off screen. In one sequence, a character moans as she is massaged by another woman; suggestive dialogue can be heard throughout (e.g., "Don't carry any of those impure thoughts," "Ahh, I'm so sensitive to this . . . Ahhhahahahaha! I can't take it anymore!"). The words "sh*t" and "b*tch" also appear in dialogue.
Simply reading through this rating description, there doesn't seem to be too much more naughty content than what was shown in Hyperdimension Neptunia, but the sexually suggestive comments do seem a bit more blatant and not simply referenced unlike the first. Then again, considering the enjoyable experience the first Hyperdimension Neptunia title provided should not be missed simply due to a rating. NIS America is currently set to release Hyperdimension Neptunia Mk2 sometime in Spring this year.