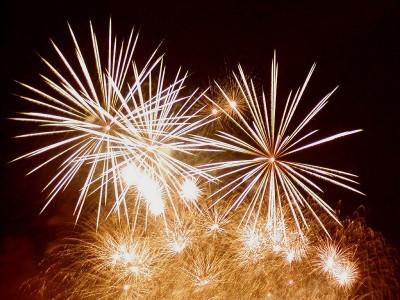 H

A

P

P

Y

N

E

W

Y

E

A

R

!
Yes it's that time of year again when a new one starts. Laters 2011!
2011 has been a huge year for Capsule Computers. In such a short time, we really have grown quite rapidly as an independent media company, aiming to bring you all the latest in Video Game and Pop Culture news, reviews, interviews and more. I think I speak on behalf of the entire team when I say that we're all really proud of this website and it's community, and 2011 has seen us through some of the most memorable times yet!
Among all these amazing events, games, movies, shows and gadgets we get to play with (god my job is amazing!) some of the most fun we've experienced has got to be going to all sorts of crazy conventions, interacting with others and checking out all the new stuff yet to come.
Below is a little gift I've prepared for you guys to just recap all that fun and excitement incase you've missed out for all you slowpokes! The video contains footage of events such as SMASH!, E3, EB Games Expo, Game On! Festival and Tokyo Gameshow as well as taking a look back on all our new exciting video series and Podcasts. Do enjoy!
2012 is already set to be an even bigger year than the last with a brand new forum launching January 17 available to all Capsule Computers members, and even more awesome competitions and event coverage is already in the works. How exciting!
2011 has been one hell of an awesome year, and on behalf of the team I'd like to say thank you to everyone who's been tuning in and showing some love for Capsule Computers. The best part is: it's only going to get better and even more awesome from here!
Much love, respect, 1UPs and Power Pellets,
Matt Vella
Editor/Social Media Community Manager 
As always don't forget to:
| Like us On Facebook | Follow us on Twitter | Subscribe to us on Youtube |