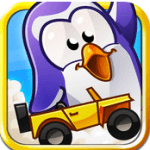 Crazy Escape the fun, and crazy, app from BulkyPix and developed by KoolFing, has been given a brand new price of $0.00! That's right, to celebrate their new update, Crazy Escape is FREE for a week.
In Crazy Escape you play as Cutlet and Mishmash (the oddest named penguins, apart from Mumble), heroic penguins who have decided to ditch their comfortable Artic environment and journey to the land of cowboys saving their sheep friends (having met at the cute animal mixer I guess?), from wolves, and turning the whole natural habitat thing on its head.
The update has 25 new levels, as well as Crazy Coins, which allows you to get new vehicles that you can use in all the levels of the game.
Check out the gameplay video for the update below!
Crazy Escape is available NOW for FREE (for a limited time) on iPhone, iTouch and iPad – Get it HERE