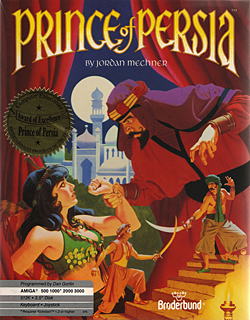 If you'e looking for some classic platforming action then head on over to your personal favourite of Nintendo's digital download lands – Prince of Persia has just arrived on the Wii Virtual Console and the 3Ds Nintendo eShop.
This is the original game, dating all the way back to 1989, and is the very first time the Prince had come up against the devilishly bearded Vizier (see boxart for accompanying curly mustache). The game is often credited with defining the way we play 2D side scrolling platformers, so if you're a fan of the genre and weren't around at any significant age in 1989 (or for the XBLA/iOS re-releases), then this is your chance to catch up on a bit of genre history.
The title is out now, priced at $7.50 in the 3Ds eShop and 800 points from the Virtual Console.