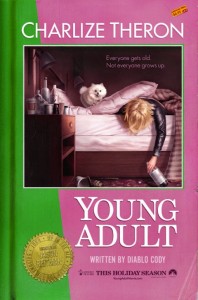 Sit up, Charlize Theron fans, here is another movie from the critically acclaimed and damn gorgeous actress. In a not-so-typical comedy, Theron takes on the role of the unlikeable protagonist who heads back to her home town, making waves as she does and not everyone (in fact, pretty much no one) is happy to see her return.
Written by Juno's Diablo Cody and directed by Up In The Air's Jason Reitman, this was always destined to be different from the usual and break the boundaries usually set by comedies. From afar it might seem like just another typical 'go home, learn a lesson, grow as a person' movie, but with this creative team and the talented Theron at the helm, this guaranteed to be anything but typical.
Check out some clips from the movie below! Is this a movie you guys would be interested in seeing? Is it a bit too different for you? Or not different enough? Or, if you're from another, luckier country, have you already seen it and what did you think of it? Let us know in the comment section below!
Young Adult is set for cinema release in Australia on January 19, 2012.
[pro-player width='530′ height='253′ type='video' repeat="true" playlist="bottom"]http://www.youtube.com/watch?feature=player_embedded&v=VQasRhOT_VU,http://www.youtube.com/watch?feature=player_embedded&v=5FLGod6teII,http://www.youtube.com/watch?feature=player_embedded&v=F2inHB66pMQ,http://www.youtube.com/watch?feature=player_embedded&v=SMyvm0aetRU,http://www.youtube.com/watch?feature=player_embedded&v=yynbo6DEv7M[/pro-player]