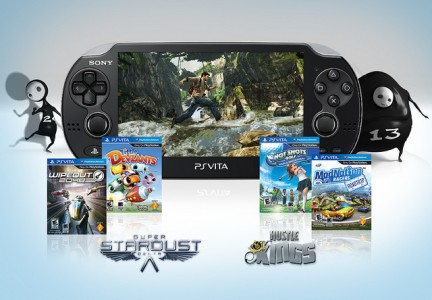 Bluemouth Interactive have revealed their Playstation Vita accessory line up ahead of the Playstation Vita launch on February 23, 2012. Four of the products have been released in more detail, however, nine products will be available. They include a Game Traveller Case, a Hard Case, a Screen Protector Set and the 8-in-1 Essential Pack. Here are the products in more detail, accompanied by a picture of the accessory in question.
PS Vita Game Traveller Case – RRP $19.95

Hold PS Vita console and 16 games
Carrying case converts to a convenient viewing stand.
Carabineer for secure attachment to accessory bags or clothing
Hard-shell construction for maximum protection
Loop carrying handle

PS Vita Hard Case – RRP $9.95

Hard shell case providing optimum protection for your PS Vita console.
Play your PS Vita without removing it.
folding foot transforms your shell case in to a stand for your PS Vita.

PS Vita Screen Protect Set – RRP $9.95

Protects the tactile screens of your PS Vita console.
Includes protective films for PS Vita rear touch panel and front screen, thin and flexible films that easily fit and an antistatic cleaning cloth.

PS Vita 8-in-1 Essential Pack – RRP $29.95

Includes:

EVA pouch for PS Vita.

Carry and protect your PS Vita, games and memory cards.
Compact and protective storage cases.

Console silicon glove
2 game and 2 memory cards each.
Screen protector kit.

High quality screen protector for the PS Vita screen + antistatic cleaning cloth.

Wrist & neck strap for PS Vita.
Stereo earphone that provide high quality sound for your PSVita.
Universal 3.5mm jack.
Splitter – Connect an additional set of earphones.
With these accessories and more coming out at launch, potential Vita owners are definitely spoiled for choice. However, considering that Australians have to pay premium for the console, memory card and game, accessories may be asking a little much. Then again, it's not that much.